Norwegian Musings and Polish Thoughts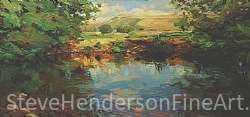 Sanctuary: Oil on Canvas -- 16x34. We visited Portland, Oregon this weekend, which for us is a large city. On the way out, we passed through Multnomah Falls and the scenic Columbia Gorge, but were unable to seriously reflect and relax in these beautiful areas because of the quantity of urban escapees who were trying to do the same thing. Five hours later, we reached sanctuary -- rural Eastern Washington, where we can, and do, seriously reflect and relax.

I am grateful that so many people truly enjoy living in the metropolis. As an artist, it is my goal to create work that transports its viewers elsewhere, so that even those who thrive on city life can experience a sense of rural quietude. Original oil painting by Steve Henderson of Steve Henderson Fine Art.